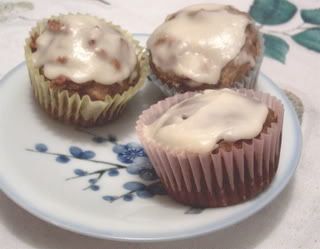 I have been a bit of a nomad this summer, with no kitchen to call my own.  I am quite looking forward to cooking and baking again when I finally settle in Boston this weekend.  So, the recipe I'm posting today is an oldie but a goodie.
Last autumn I lived in Sacramento near my friend Samantha, who had an apple tree in her back yard.  She and her mother and I tried to think of as many ways as possible to make use of the apples - apple spice cakes, apple butter, apple crisps.  This was my favorite variation: apple cinnamon cupcakes with homemade vanilla frosting.  Because one of my co-workers was lactose intolerant, I made them vegan as well - don't worry, they tasted so delicious that no one even knew the difference.  Except for my co-worker's intestines, of course.
Without further ado, the recipe:
~ Grate two cups of apples (keep the skins for texture).  
~ Put them in a big pot and begin heating it on the stove.  Then, as it heats, add two cups of sugar, two cups of water, one cup of butter/butter substitute, and around two teaspoons of cinnamon and nutmeg, depending on how much you like cinnamon and nutmeg.  Put in some ground cloves if you have them. 
~ Heat it all until it boils, then take it off the stove to cool. 
~ Add three cups of flour and two teaspoons of baking soda slowly, mixing well.  
~ Put in the oven at 350 degrees for ten-fifteen minutes.  Check if they're done by pressing on the tops.  If they bounce back, they are!
The frosting is just three cups powdered sugar, a quarter teaspoon vanilla, one third cup butter/butter substitute, and two tablespoons milk/milk substitute.  Mix until it's nice and smooth and then spread as much as you want on the top of your cupcakes.  You can sprinkle a bit of cinnamon or cinnamon-sugar on top for show.
Makes 24.  Enjoy!